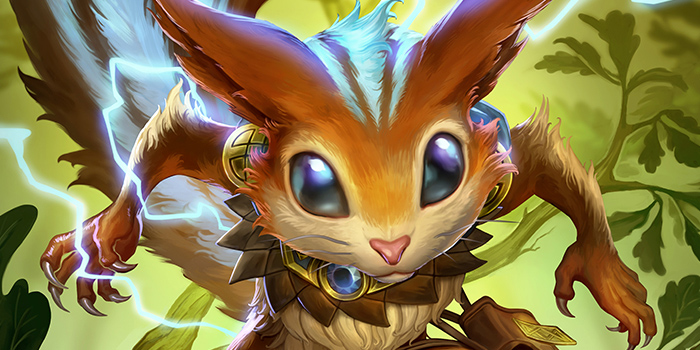 Ratatoskr is the next god arriving into Hi-Rez Studios's MOBA, Smite. And yes, he is a squirrel. But don't laugh until you see the little fellow in action.
As an assassin, Ratatoskr will have to use his natural speed to outmaneuver and defeat foes far more formidable than himself. His abilities like "Dart" and "Through the Cosmos" gives him some great maneuverability, while his "Flurry of Acorns" and "Acorn Blast" give him some nice, bursty damage output —the hallmark of a good assassin.
Ratatoskr is Smite's 66th god, and the 10th god added to the Norse pantheon. He is also the 13th assassin added into the game, following Awilix who was released in December of 2014.
A Squirrel, a Wyrm, and an Eagle walk into a tree…
I did some homework and dug around online to see what I could find out about Ratatoskr and where he fits into Norse mythology.
Yggdrasil, the world tree, is Ratatoskr's home. He runs from the very top of Yggdrasil where a mighty eagle lives, all the way down to the very roots of the tree where the wyrm, Nidhogg, resides. As it turns out, the eagle and the wyrmm despise each other, and Ratatoskr is more than happy to fuel the feud by running back and forth between the two, telling them what one said about the other.
So yeah, Ratatoskr is a little, gossiping squirrel.
Apparently, trouble-making squirrels are not isolated to just Norse mythology. In some Native American mythology, Miko (also spelled Meeko, Mikew) was a squirrel (In Pochantas, Disney made Meeko a racoon…I guess squirrels weren't lovable enough) who, back when squirrels were much larger than they are today, was very mischievous. As punishment for his mischievous ways, the gods shrank Miko down. And that, according to the legend, is why squirrels are so small, and always seem so angry.
Hey, Get Your Eyes Off My Nuts!
Ratatoskr in Smite is more of a spunky little fur ball, than anything else. His in-game voice commands give him the presence of a snotty little kid. However, Hi-Rez did a good job ensuring that his voice is not ear-splittingly annoying…unlike other the child-like gods in Smite. *coughcoughCUPIDcoughNE-ZHAcough*
While no release date is certain, usually god patches drop on Tuesdays, so we may be able to play with Ratatoskr in just a few short days.
Check out the announcement site for Ratatoskr that Hi-Rez put together. It's really, very impressive.
---
Sources: [Mikew the Squirrel]
[Ratatoskr and Meeko: Spiteful Squirrels of Norse and Wabanki Mythology]