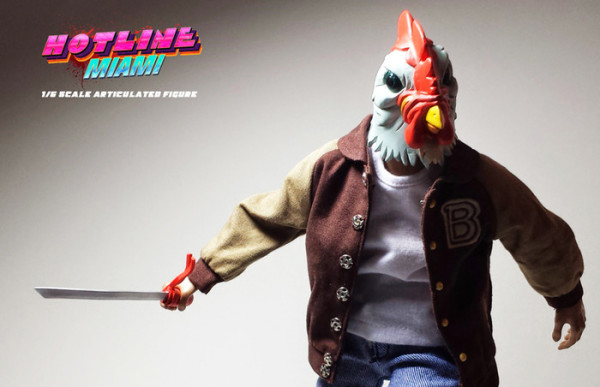 Dennaton, Devolver Digital, and Esctoy have teamed up to launch a Kickstarter campaign based around producing 1/6 scale "12 inch" action figures based on the Hotline Miami protagonist, Jacket.
The default Jacket figure comes with three different masked heads (pig mask, chicken mask, tiger mask), removable clothing and weapons, and fifteen points of articulation. This base figure can be acquired through the $85 "No Turning Back" tier.
There were also a couple variant Jacket figures for higher price points. The "Midnight Miami Maurader" figure sold out at $200, and as of this writing there are twenty-four "Soaked" variant figures available, also for $200.
Because the Kickstarter campaign reached the $100,000 mark, a bonus rewards set featuring a fourth (bug) mask and additional drill weapon is also available for buyers of the $85 and up. The extra mask and weapon will cost an additional $35, bringing the total up to $120 to own the full set. If $110,000 is broken, a fifth (owl) mask and uzi will be added for an additional $31.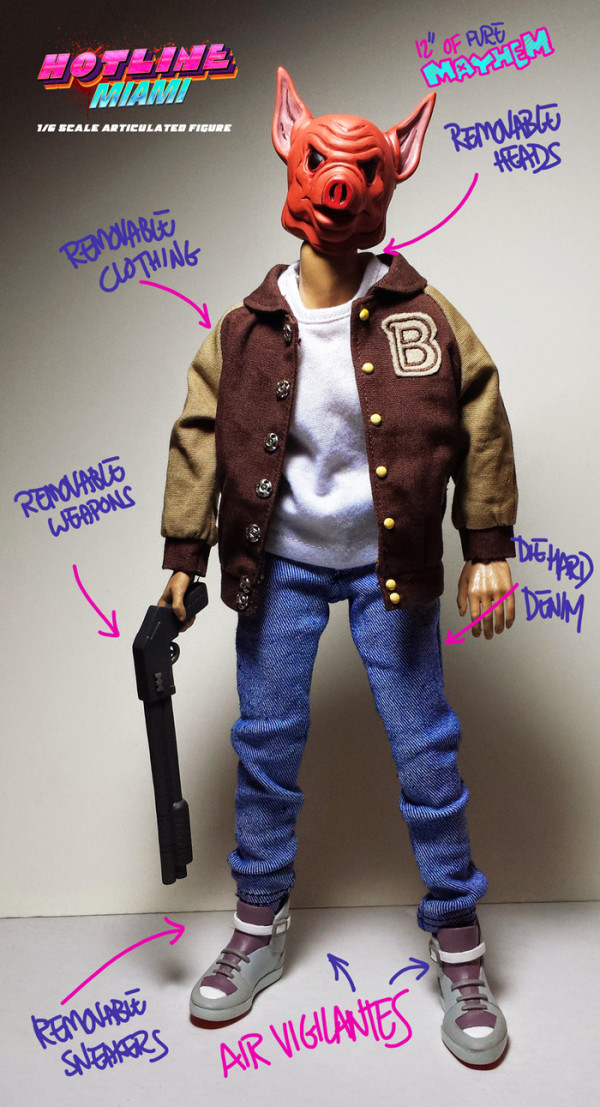 About Hotline Miami:
"Hotline Miami is a high-octane action game overflowing with raw brutality, hard-boiled gun play and skull crushing close combat. Set in an alternative 1989 Miami, you will assume the role of a mysterious antihero on a murderous rampage against the shady underworld at the behest of voices on your answering machine. Soon you'll find yourself struggling to get a grip of what is going on and why you are prone to these acts of violence." – Kickstarter Campaign