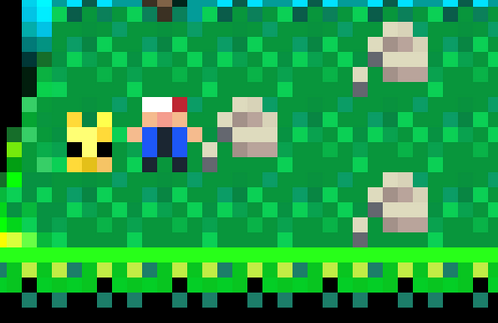 This is Tall Grass by Lipedal.
Tall Grass, both in name and design, is a nod to Pokemon. Within this Ludum Dare 28 jam entry, players take control of a pixely figure that vaguely resembles Ash Ketchum, and who, lo and behold, discovers a small, bright yellow, companion to tag along through the game.
The game plays much like the classic Snake games, where players have to account for the little yellow guy, trailing the Ash look-alike's every move. Enemies follow predictable paths through the levels, so with a little patience and attention, figuring out their routes can be done in a short time.
"This is our first Ludum Dare entry," Lipedal explains on the game's Ludum Dare page. "We tried to make something simple and tell a short story, using the PuzzleScript engine. We had some problems along the way, had to start again on Sunday night, but we managed to finish a game and have fun."
An "expansion pack" is currently in the works, adding in additional content to Tall Grass.