The second "Build-A-Bundle" launched recently, and what sets this particular indie game bundle apart from the rest is that it allows you to pick three games from the lot, and pay what you want (minimum of $3) for the games chosen. The more money that is earned, the more unlocks everyone who purchases a bundle will get. Right now, the community has managed to unlock four indie game music albums.
With almost $20,000 raised, and nine days left to go…this bundle is looking like a hit, and it's easy to see why with so many games that apply to many different types of gamers.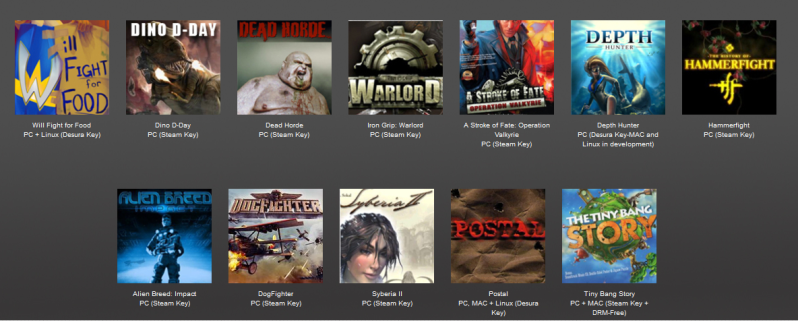 The games included in the bundle are: Alien Breed: Impact, Iron Grip: Warlord, Dead Horde, Dino D-Day, Syberia II, A Stroke of Fate: Operation Valkyrie, Depth Hunter, Postal, DogFighter, Hammerfight, The Tiny Bang Story, and Will Fight For Food.
I have played both Hammerfight and Alien Breed and can recommend them both. Hammerfight has a neat physics system where you use your mouse to manipulate the swinging hammer around your flying contraption, in an effort to take down other flying gizmos. Alien Breed is a top-down shooter where players blast their way through hordes of aliens. Challenging at times, but fun.
The three games I'll probably end up picking up are Dogfighter, Depth Hunter, and Dino D-Day. I am a sucker for aerial fighting games, so Dogfighter was an easy choice for me, and Dino D-Day is a first-person shooter with dinosaurs in a WWII setting. How could I pass that up? Depth Hunter is the wild card here. From what I saw in the Build Your Own Bundle trailer, it looks as if Depth Hunter is a first-person adventure game where you sea-dive in search for buried treasure, while avoiding sharks. Looks cool enough to try.
Of course, I could buy all of the games, but my wallet is still recovering from the Steam Summer Sale…so I'm taking it easy for awhile.
Build (and buy) your own bundle, today! Visit the Build A Bundle website to get picking!