City of Steam, a new free-to-play title by Mechanist Games enters Alpha in two days. As is a growing trend among many Asian developers (think Softnyx or Nexon), this China-based indie team hopes to create the next great free-to-play release, drawing players in with a blank price tag.
However, this title is different. Players will be thrown into a realm not often seen in the free game market: the world of steam-punk. Players will be pitted in the dilapidated and mechanized city of Nexus, as they discover heinous plots of destruction and fight alongside various warring factions.
Alpha testing will be conducted over a period of three weekends beginning July 20. Between each period, new updates are scheduled to be revealed during the week, psyching up players to test and give feedback. The most prominent of these features are the individual races. The debut for each of the nine races are as follows:
July 20 – July 22: Humans (Heartlanders, Aven, Ostenian, and Stoigmari)
July 27 – July 29: Elves (Riven, Draug)
August 3 – August 5: Greenskins (Goblins, Hobbes, and Orcs)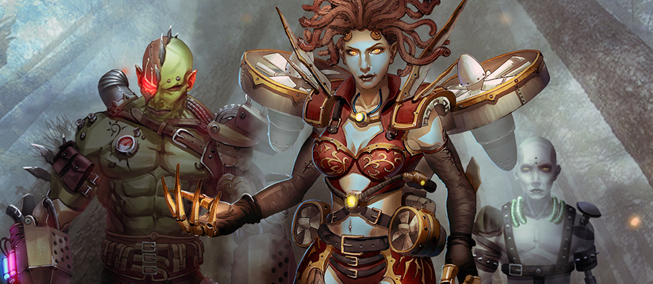 A total of nine races, combined with four classes (Arcaner, Gunner, Warder, and Channeler), appears to give players more variety than most Free-to-Play games during character creation. Each class seems distinct, as the Arcaner, Gunner, Warder, and Channeler take on the traditional roles of mage, archer, warrior, and bard, respectively.
Still, not much has been released in the vein of character aesthetics. As for gameplay, the only footage that has been released is a short trailer on City of Steam's homepage.
As is stated in the FAQ, "a wide variety of PvE and PvP environments" will be available to fight within. Quick to stress their game will be "free-to-play, but NOT a pay-to-win game," Mechanist Games is offering instant access to the alpha through a minimum purchase of 65 Electrums (in-game points), or a $10 donation. Those tight on money can still visit partnered sites ("How to Get a Key") or create an account, subscribe to the newsletter, and wait for one.