"Dawn of the 2nd Day, 216 Hours Remain." (Que Majora's Mask Day 2 Music)
Day #2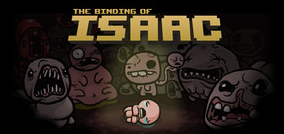 The Binding of Isaac – $1.24
One dollar and twenty-four cents, people. It don't get no cheaper than this! Yee-haw, and all that.
As much as I recommended Terarria yesterday, I recommend The Binding of Isaac today. The game is a simple dungeon-crawler with gruesomely satisfying characters, and pretty much an unlimited replay value. I've put some time into The Binding of Isaac and had a lot of fun with it. My least favorite aspect is how there is no save feature, so if you happen to get particularly far, and, say, your class starts…you have no way to pick up where you left off later on in the day.
Also, if you already own The Binding of Isaac, be sure to pick up the mini-expansion, Wrath of the Lamb, for seventy-four cents. Seventy. Four. Cents.
The Binding of Isaac in the Steam Store
"Indie Bundle #2" – $9.99
The second Indie Bundle Steam has assembled for the summer sale includes: Botanicula, EYE: Devine Cybermancy, Oil Rush, Splice, and Universe Sandbox.
Click on the links to be taken to the Steam Store page for the individual game. All together, these games would cost $31.65, normally. I think I will be passing on this bundle, none of the games really catch my interest…and I really need to watch what I spend with these sales, since it's super easy to spend too much.