First Look at the Making of Halo 4
343 Studios offers up a preview of what they have been working on for Halo 4. This is the first entry in the new "Reclaimer Trilogy" that will see the development of 3 consecutive Halo titles, crafted by 343, rather than Halo's original developer, Bungie. Halo 4 is expected to launch this coming winter holiday.
Valve: Counter-Strike Global Offensive Coming Summer 2012
Armed with new maps, new gameplay modes, leaderboards, and more, Counter-Strike: Global Offensive is prepared to arrive, this summer. Global Offensive will be available on PC, Mac, Xbox Live Arcade, and PlayStation Network. Check out Global Offensive in the Steam Store.
"Fus-Ro-Doh!" Shirt, $10 on Teefury Today Only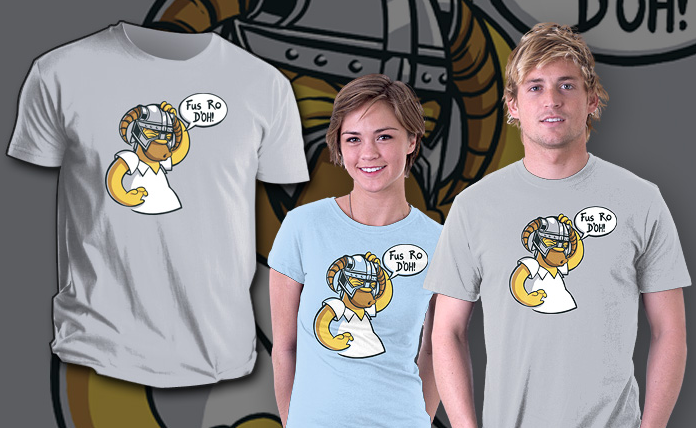 For today only, pick up this Simpsons/Skyrim crossover shirt for $10 + shipping, only on Teefury. Credit to DrawsGood for another awesome shirt design.
Hitman and Assassin's Creed Composer to Compose for Darksiders II
Jespr Kyd was hired to create the soundtrack for Vigil Games' Darksiders II. The game will take place within the same time period of the first Darksiders, except in 2, players will control the Horseman Death, instead of his brother, War, that was the protagonist in 1. Vigil brags that Darksiders II will be twice as large as its predecessor. Visit the official Darksiders website for more information. Here is a bit Kyd composed for Assassin's Creed II, and below you can find a track from Hitman: Blood Money. [http://www.jesperkyd.com/]