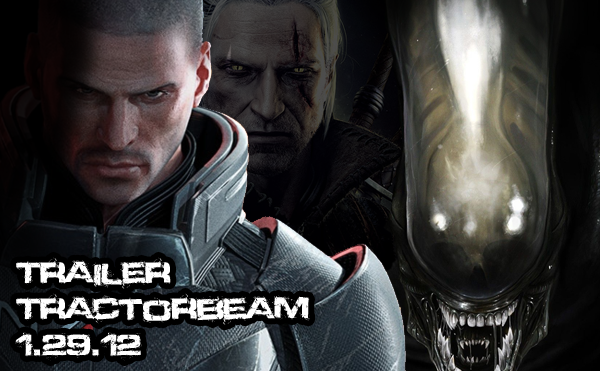 For this batch of trailers, I'm keeping things short, but very, very, sweet.
A trailer for Mass Effect 3's highly debated multiplayer mode, was recently released. As an opponent of the implementation of multiplayer in ME3, believing that Bioware should instead focus all of their time and energy into crafting an amazing conclusion to one of my favorite current-generation franchises (pauses to breathe), I am pleasantly surprised to say that the trailer below caused me to re-think my stance. Not because the trailer is totally awesome and that translates to a totally awesome experience, because that is hardly ever the case, but I'm happy to see that Bioware has put some class-based action in the mix. With all the different species present in the series, it only makes sense that they would all fight slightly differently, and that is a point I had not thought of. So now, instead of stomping my feet in frustration, I'll just impatiently tap my foot until I can get my hands on the multiplayer.
The Alien franchise is one that I'm not too familiar with, but the games always seem to find their niche in the community. The trailer shows off the nimble monstrosities tearing up space marines and scurrying around with surprising agility. The aliens/space marine concept is becoming worn out, but that doesn't stop the trailer from being pretty damn cool to watch, regardless of how the game will turn out.
Speaking of pretty damn cool, have you seen The Witcher 2: Enhanced Edition trailer? Unless Old Republic releases a new CG trailer at this years E3, I am fairly certain that this Witcher trailer will be my favorite hype trailer for 2012. That's right, I'm comfortable saying that hardly a month into 2012. I just watched it again.
Mass Effect 3

Trailer Type: Multiplayer Features
Platforms: Windows, PlayStation 3, Xbox 360
Release Date: March 6th for North America, available worldwide by March 15th.
Developer: Bioware
Publisher: Electronic Arts
Aliens: Colonial Marines

Trailer Type: Gameplay Hype
Platforms: Windows, 3DS, PlayStation 3, Xbox 360, Wii U
Release Date: Spring 2012 [source]
Developer: Gearbox/TimeGate
Publisher: Sega
The Witcher 2: Enhanced Edition

Trailer Type: CG Hype Trailer
Platforms: Windows and Xbox 360
Release Date: Out now for Windows, April 17 for Xbox 360
Developers: CD Projekt RED
Publishers: Atari/Namco/WB Interactive