Available for both Apple and Android phones, gamers can now access Steam on the go.
Valve boasts that the mobile app allows users to chat with friends from their Steam friends list, and more importantly, shop the Steam store.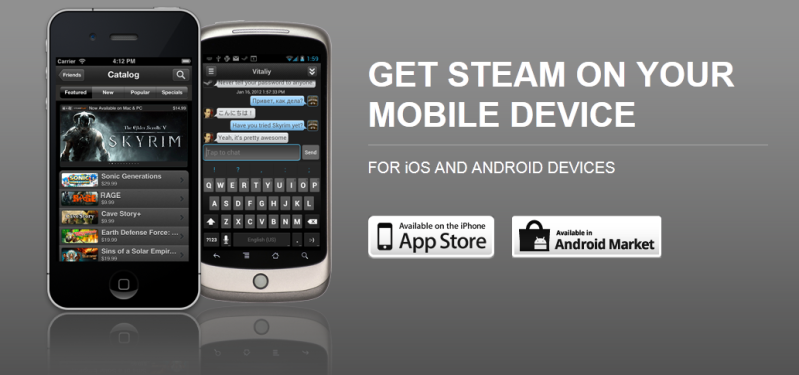 This application has my attention for two reasons. The first being that I believe Valve may be making a shift into the mobile market, with this app. Think about it, what a perfect way for Vavle to reach out to an entirely new audience, and all of the mobile indie game developers would love to have their game hosted on the Steam platform. This just makes too much sense, not to happen.
The second thing I'm hoping is the implementation to queue up a download from mobile devices. The only way this could work is if you leave your computer on while you're out, and can acess your account from your phone to start downloading a game so it is ready by the time you're home. Every once in awhile, while daydreaming in class, I'll get the urge to play an older title, like Star Wars Battlefront 2, or Brothers in Arms. If I could, I'd simply pop open the Steam App and set up my downloader, but usually by the time I get home, I'm too anxious to get playing something to wait around while a game downloads.
So hopefully, Valve keeps this app updated and add never features periodically.