Being a janitor has never been so cool.
If the old Sonic the Hedgehog games were some of your favorites from the 16-bit era, let me happily introduce you to Dustforce, Sonic's spiritual successor.
Dustforce puts players in the overalls of a very nimble, ninja-like, janitor who has been tasked with clearing out dirty levels with a flurry of broom sweeps and double-jumps. Players control the janitor's movement with the arrow keys, and can jump, quick-attack, heavy-attack, and sprint with Z, X, C, and Ctrl, respectively. Simple controls for a simple premise.
That, however, is where the simplicity ends.
Hidden beneath the colorful levels, happy-go-lucky soundtrack, and cartoony visuals, lurks the ugly goblin of repetition. To progress through the levels, you will have to coordinate your leaps, sweeps, and dashes into a ballet of perfection, because the only way to get to the next level (after the initial few) is to complete a level…perfectly.
As someone who has little patience for repetition, this was almost a game breaker. Then I realized, the fault is not with the game, but with me. I was just not good enough.
In an age where I've become so used to a single-player game holding my hand, and just naturally coming into a game already good at it…I had forgotten what it's like to be faced with a truly challenging game.
There were no bugs, no unfair enemies, there are no flaws left by the developers that would give me reason to blame the developers for anything. This was how Hitbox designed the game, and I would have to get used to it.
At the end of the day, while I'm playing Dustforce, I hate it. I hate how I'm not already good at it. But the moment I am about to give up, before I hit the Escape button to quit…I decide I can do better, that I won't let this game beat me, and keep playing…because it's that satisfying to do well in Dustforce.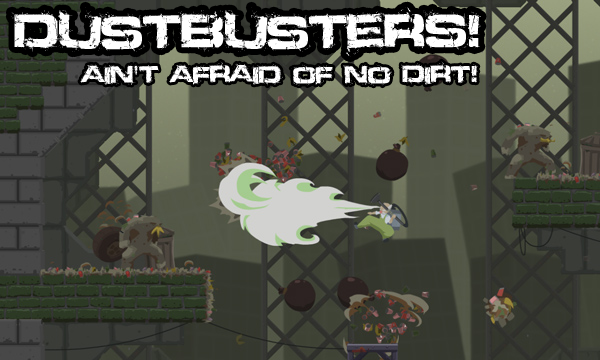 If you liked the old Sonic the Hedgehog games – Buy it!
If you like fluid and challenging platformers – Try it!
If you get frustrated easily – Avoid it!
Overall Opinion: Try it!
Dustforce is available in the Steam Store for $9.99.
Extra Notes –
– There is an offline multiplayer mode, with a handful of different modes.
– There is a door in the main hub that leads to a "Level Editor" that will be released in the near future.
– At the completion of every level, you will see your score listed on a live, global scoreboard.