Earlier this year the internet was buzzing with news of a new zombie shooter on the horizon. The buzz for Dead Island was largely due to A.) the success of AMCs The Walking Dead and B.) the eerily emotional slow-motion trailer released with the announcement of Dead Island.
Zombie games are becoming as trite as WWII shooters were ten years ago, but that did not stop the hype for Dead Island from continuing to grow. With Dead Island's release earlier this week, lets see if the game lives up to the hype.
"…Dead Island scratched an itch I didn't even know I had. Cooperative undead survival is nothing new to gaming, but exploring a gigantic zombie-infested island with friends is. I easily poured over 40 hours into my playthrough, and a new game plus promises even more entertainment. Rewarding character progression and the vast variety of weapons should appeal to anyone looking for a good time. If you've spent your time planning for the zombie apocalypse, Dead Island is the best option so far to test how long you'd last." – GameInformer 8.5/10
" I don't feel it's my place to tell game developers how to do their job, but an open-world zombie game has far more potential than what Techland is putting on display. There's certainly a lot of fun to be had on Dead Island, but don't be surprised if tedium sets in once you've murdered a zombie in every way imaginable (estimated time: 20 hours). " – 1UP B-
"Dead Island probably won't redefine the survival-horror genre, but it's putting a fresh spin on things by demonstrating how online multiplayer can be used to make a fantasy world really feel inhabited by those with a common goal: survival. And the freedom to explore, exist, and eviscerate the undead the way you want is what makes Dead Island worthwhile." – GamePro 4/5
"Driving through a horde of zombies, jumping out to loot their corpses before finishing a quest and leveling up is a common occurrence in Dead Island, one that practically ticks boxes off the "digital mayhem" checklist. The game's economy and loot do much to keep things challenging and interesting, and if you play in brief bursts, the repetition of constant scavenging and wall-to-wall combat doesn't mar the experience. Extended sessions are best played with friends, though, lest you resort to can-canning zombies to death." – GameTrailers 8.5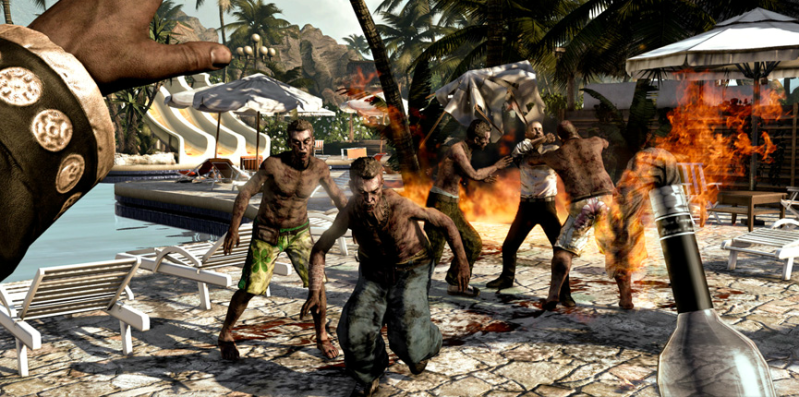 Dead Island was developed by Techland, published by Deep Silver, and is now available on the Playstation 3, Xbox 360, and PC.