Check back here all week long where we will be updating everyday about the daily updates that Valve releases for Team Fortress 2, accumulating with the highly anticipated "Meet the Medic" video at the end of the week.
Monday's Update = MOBSTER MONDAY, 6 new weapons (3 for the Heavy, 3 for the Spy.)
New Heavy Weapons
TOMISLAV – Minigun
+75% faster, spin-up time
-20% firing speed
THE FAMILY BUSINESS – Shotgun
+40% clip size
-15% damage done
THE EVICTION NOTICE – Brass-Knuckles
+50% punching speed
-60% damage done
New Spy Weapons
THE ENFORCER –
Revolver
+20% damage done
0.5 sec increase in time taken to cloak
THE BIG EARNER – Knife
+30% cloak on kill
-25 max health on wearer
THE MADE MAN – Rose
A gentleman always has a flower handy to drop on an opponent's grave.
Tuesday's Update – TIMBUK TUESDAY, 5 new weapons (2 for Sniper, 3 for Demoman.)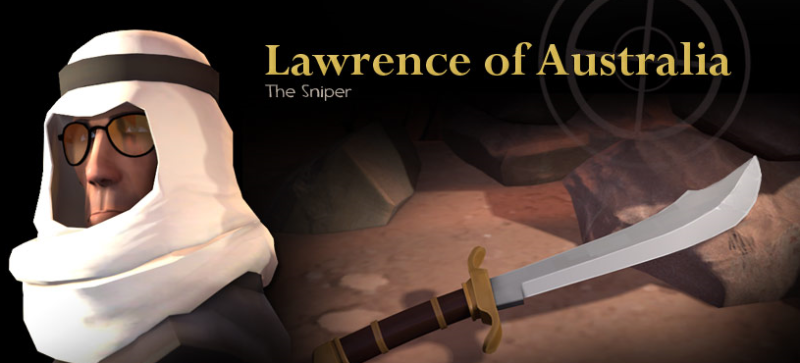 [two]
New Sniper Weapons
THE BAZAAR BARGAIN – Sniper Rifle
Consecutive headshots net charge bonus
Hitting anything but the head diminishes charge rate
Missing completely clears the charge
THE SHAHANSHAH – Sword
+25% damage when at half-health or less
-25% damage when at over half-health
[/two] [two_last]
New Demoman Weapons
THE SPLENDID SCREEN – Shield
+25% fire damage resistance
+20% explosive resistance
Can deal charge damage at any range
+70% charge impact damage
THE PERSIAN PERSUADER – Sword
+100% charge recharge rate
All ammo collected becomes health
ALI BABA's WEE BOOTIES – Shoes(?)
+25 health on wearer
100% increase in turning speed while charging
[/two_last]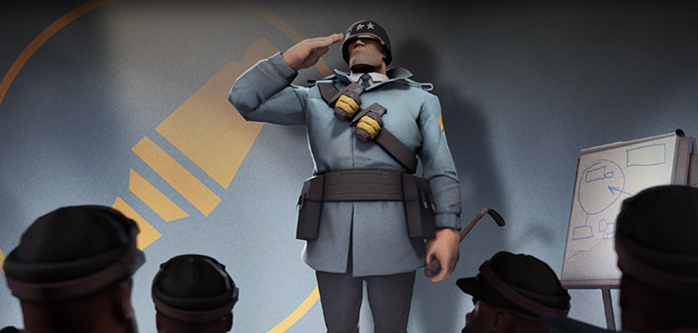 Wednesday's Update – World War Wednesday! (5 Soldier items)
THE MANTREADS – Boots
75% reduction in push force for damage taken
Deals 3x falling damage for enemies you land on
THE DISCIPLINARY ACTION – Riding Crop
On ally hit: increases run speed for them and you
-25% damage done
THE LIBERTY LAUNCHER – Rocket Launcher
40% increase in projectile speed
-25% ammo carried
THE RESERVE SHOOTER – Shotgun
15% faster weapons switch speed
Mini-crits airborne targets for 3 seconds after switch
-50% clip size
THE MARKET GARDNER – Shovel
Deals crits while rocket-jumping
No random critical hits
THURSDAY'S UPDATE – MEET THE MEDIC VIDEO RELEASED!! (and 3 new Medic items)

THE QUICK-FIX – Medi-gun Prototype
+40% heal rate
+25% ubercharge rate
Can move as fast as the target your healing
THE SOLEMN VOW – Melee Weapon
Able to see enemy health
THE OVERDOSE – Syringe Gun
Movement speed bonus based on ubercharge rate
-10% damage